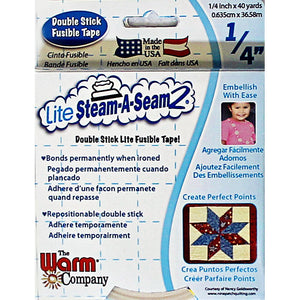 The Warm Company
Lite Steam A Seam 2 - 1/4" X 40 yd roll 5409 by The Warm Company
Regular price
$3.99
Sale price
$5.70
Lite Steam-A-Seam 2 (double stick) has the pressure sensitive adhesive on both sides which allows for a temporary hold to both the appliqué material and the background material.

Lite Steam-A-Seam is 1/2 the weight of the regular version, making it ideal for sheer, lightweight fabrics. You can hold your project vertically and the appliqué pieces stay in place and are still repositionable until fused with an iron. Once fused the bond is the same as the original Steam-A-Seam, unfinished edges won't lift or fray, if you choose to finish the edges you can sew through the pressed applique without gumming up your needle or finish the edges with paint. Washable and dry cleanable.

This product is a 1/4" x 40 yd roll.
---
More from this collection