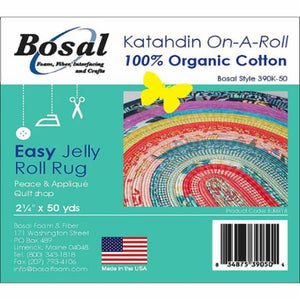 Bosal
Katahdin on A Roll 390K 50 Bosal - Batting roll strip 2 1/4"x 50 yds
Regular price
$24.99
$0.00
Bosal Batting strips on a roll, for making Jelly Roll Rugs, Purse Straps and more. Made in USA. 100% Organic Cotton.
Precision Precut Batting Strips are 2-1/4" wide and each roll is 50 yds long. (One roll with be enough for one Jelly Roll Rug pattern by RJ Designs- see picture 2)
Katahdin 100% Cotton Summer 3oz Batting on a Roll is Lightweight, 100% Cotton, Triple-Carded, Needlepunched Cotton. It is Extremely Stable - No pre-shrinking required - 100% natural, with No Scrims or Resins.
---
More from this collection